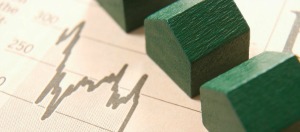 This week's mortgage market update may make a few home buyers nervous, as rates may increase. However, even if/when rates go up, they're more than likely to stay very close to the historic lows we've been seeing over the last few years.
As improvements continue in the mortgage marketplace, interest rates are forecast to move higher throughout the next week. However, rate volatility will be on the higher end of average, making changes entirely possible.
Although it's practically impossible to say for certain what interest rates are going to do, analysts from Sigma Research say mortgage rates are currently trending higher due to the MBS market worsening by -33 bps last week. This was enough to affect mortgage rates and/or fees. Furthermore, Sigma Research says the market was extremely volatile last week.
As for this week's mortgage rate forecast, increases are to be expected. However, rates are still expected to remain close to historic lows so no need to panic. Instead, talk to your mortgage lender about locking in a low rate before further increases occur. Your lending professional can walk you through the pros and cons of locking in a rate now and advise you on the best mortgage strategy for your homeownership goals.
Volatility this week will be average; however, Sigma Research calculates that it will be on the higher end of average, making it entirely possible for rates to move up and down with more frequency. Because there's very little economic data to go on this week, most of the focus will be on global news; the awaited ECB meeting on Thursday at which it is widely presumed that Mario Draghi will announce more interest rate cuts.
The Bottom Line:
If you are considering the risks and benefits of locking in your interest rate today versus floating your loan rate, contact a trusted mortgage professional to discuss it with them. At The Decker Group, we can assist Texas home buyers and homeowners looking to refinance with evaluating these risks and benefits. Our team of experienced mortgage professionals will work closely with you to find the mortgage strategy that makes sense for your situation. Give us a call or complete the form on this page to learn more. To view our selection of home loan products, click here.
House Flipping Hits 10 year High
Thanks to substantial gains in real estate values, house flippers are coming out of the woodwork. The number of active home flippers last year was the highest it has been in nearly a decade, and that number continues to grow.
Nearly 180,000 family homes and condos were flipped in 2015, according to data from RealtyTrac.
What exactly is house flipping? A "flip" is defined as a home that is bought and sold again within the same 12 months. Flips accounted for 5.5 percent of all home sales last year, marking the first increase in the share of flipped homes after four years of declines. Flipping increased in 3/4 of the nation's markets, and the profits are growing as well.
Home flipping serves an important role in a market with very tight inventories. These homes are revitalized and added to the inventory pool, opening up more real estate possibilities for buyers. What's more, home prices have gone up, indicating a revitalized market or perhaps that more people are in a better financial position to afford homes. Prices have risen indeed, but not necessarily because buyers can afford to pay more. Much of the home price gains are due, experts say, to the extremely short supply of homes for sale, especially on the lower end of the market. Once more homes become available, prices may level off.
On the other hand, home flipping can create the opposite effect and actually push prices higher. In markets where inventory is extremely tight, flipped homes may not be able to stay on the market long enough to allow prices to level off. In other words, the flipped homes are selling like hotcakes, coming and going from the market so fast that inventory doesn't really ever build. Instead, homes are steadily being sold at higher prices due to lack of inventory coupled with strong demand.